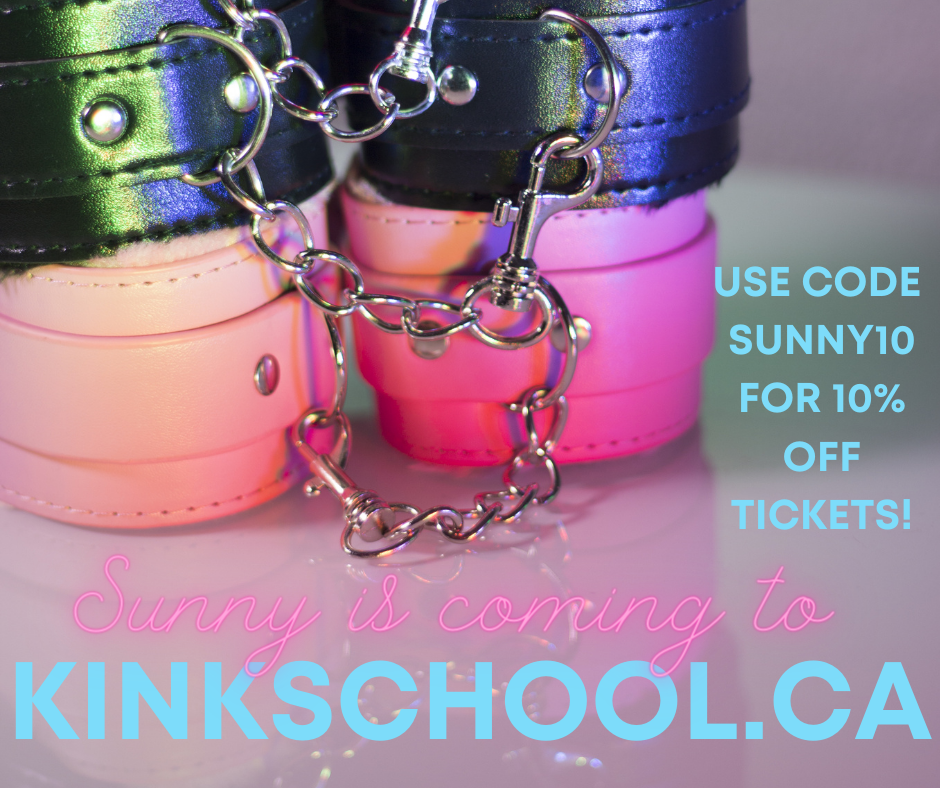 Come learn about kink in a safe and inclusive format. Virtual attendance means you can attend from nearly anywhere in the world and learn without worrying about Covid 19! 

Many classes will be offered by wonderful educators. Topics include rope bondage, pet play, hypnokink, dungeon etiquette, BDSM, BIPOC roundtable and more! Full details here: https://kinkschool.ca/class-list-2022-1 


Sunny's Classes (with VDMAC):

Primal Fantasies: Do you have an inner beast? How about a desire to be free from inhibition when you play? Maybe you're just wondering what primal play even is. Come learn about what it means to be primal. This is an introductory class and suitable for everyone! CW: Discussion of CNC play, hunting play, mention of hypnosis/brief hypnotic language.


Sensual BDSM: Learn how to harness all five senses and sensory deprivation for more intense scenes, increased intimacy, sensual sadism, and mind fuckery. Learn how to make your scenes a full mind, body, spiritual experience. Suitable of all levels of experience. CW: May include discussion of impact, wax, temperature play, fear play, bondage, hypnosis, knives, and CNC.

 
Dollhouses, Dreamscapes, and Desires:  
Learn how a story, or a piece of visual art, can become a scene! Creative language, erotica, and art can help you to better communicate fantasies with partners and develop more sensual, sadistic, and entrancing scenes. We'll discuss both physical and hypnotic applications, play a fun and interactive game to get your creative (and maybe other juices) flowing, and do some sexy demonstrations! CW: Wax, impact, CNC, capture fantasy, hypnosis/hypnotic language.
 
Use promo code SUNNY10 to get 10% off the ticket price.  That makes it $28.94 to attend for the whole weekend!

Get tickets here!